I dunno do we use this forum anymore but here is my information...
Wrestler's Ring Name: Dynamo
Wrestler's Real Name: Unknown
Height: 6,6 Feet
Weight: 237 lbs
Costume: Dynamo is wearing Nanoshield in his Entrance and after he takes it off we is wearing T-Shirt where reads 'Try To Get On With It!' back and on the front is Dynamo executing Assassin Sniper Claw, Black Shorts where reads 'Tap Out' and White Shoes
His hair is black and Dynamo's eyes are Green
Gimmick/Pharses: Pharse: Try To Get On With It!. Dynamo never back down from a challenge, If someone tells him, that he scares too much to drive in a lake with a motorcyckle Dynamo does it. So he never back down from a challenge. Dynamo is never out of money
Image: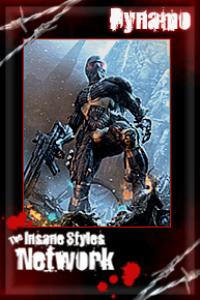 Darter:
Mr. Cash:
Birth Place: Finland
Face/Heel/Tweener: Face
Entrance Music And Video: Hammerfall - Last Man Satnding
1. Before entrance: Film Clip And Music (12)
2. Titan tron: Fireworks (12)
3. Vehicle: Shirt Throw (11)
4. Companion: Hand Mark (11)
5. Ring: Preparing (11)
• Federations: WGF - Wrestling Game Federation
Roster: xX The ISN Xx
• Injury: Healthy
• Popularity: 5. Rising Star (449)
• Fans: 806
• Age: 27
• Total Skill Index: 5.542
• Fought matches: 3459 (W:2228 | L:1213| N/C:18)
• Wrestler's score: 39.650
• Level Ranking: 151st
• Money: 8.187 fantaeuros
• Wrestler's level: 11
Supporter Status: Yes
Taunts:
Destiny Of The Haunted Warrior
Tap Out
Backflip Rush
Singature and Trademark moves:
Haunted Angel Submission Lock (Modified Ankle Lock)
Assassin Suplex (Modified Reverse Suplex)
Three Fallen Heroes (Modified Multiple German Suplex)
Finishers:
Hold Of Doom (Submission)
Assassin Sniper Claw (Direct Damage)
Destiny Calls (Direct Damage)
New Life Story
Dynamo is a wrestler. A proud wrestler. He has always tried to become a wrestler. He trained himself in his garage. He built wrestling arena in his house and he wrestled there in his own roster cllaed FIW (Finnish Invasion Wrestling). His parents threw Dynamo out from home when he were 13. After that he got work and he started to train. He had to fight for his life. He even murdered some peoples for money. He got his name from his friends. After they started to call him Dynamo he took that name to himself. He met Darter when he was 14 and he was robbing someone. Darter tried to robb Dynamo after it but then they falled in love. Dynamo met Linda when he was training. They are friends now. Dynamo got normal life with Darter and Linda. Then one day he was in shop and he saw a man who was trying to get a bottle of beer for free. He was Jamie Cash. Dynamo bought the beer bottle to him and they are now friends. Dynamo and everybody call him Ms. Cash. Mr. Cash is rich now and he is maried with Linda. Dynamo got invited in United States and he went there with Mr. Cash, Linda and Darter. In there Dynamo went in Miami with his friends, because in the invite readed where he had to go. In Miami Dynamo went in a gym and there was 5 mans. They attacked Dynamo but Dynamo beat them all. Then the sixth human stepped put and started to talk to Dynamo. Then he started to train Dynamo to be the best wrestler ever. Dynamo was 18 and he wasn't never been in better shape in his life. He went in TWG and started to wrestler in big league. He got better and better and one day human called The Matchstickgeezer contacted Dynamo. He offered a contract to Dynamo. And after that day Dynamo has been member of the IWF. Then IWF was disbanded from TWG beacuse the GM was gone. After that Dynamo was in DWS and IWR. IWR got deleted so Dynamo started to search for a roster. He found great roster called xX The ISN Xx. Since 15/08/2008 Dynamo is a member ofxX The ISN Xx.
If you need anything else let me know

Last Update:
15/08/2008
20:40

chipsi




Posts

: 2


Join date

: 2008-08-19


Age

: 24


Location

: Finland Lapinlahti




Similar topics
---
Permissions in this forum:
You
cannot
reply to topics in this forum